Hue Lights - v3.8 Release Notes
Advanced control for your Hue Personal Wireless Lighting System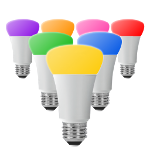 Hue Lights brings you the perfect marriage of hardware and software. Get the most out of your Philips Hue System with fast widget support, shared Scenes and Groups, comprehensive scheduling, customized sequences, Apple Watch support, powerful light controls, and remote control. Hue Lights offers excellent support for the latest Philips hardware including Hue motion sensor, Hue dimmer switch, and Hue Tap. Create multiple time intervals for motion and non-motion events. Control separate Hue dimmer switch buttons using long-press and short-press actions. Scene details, schedules, motion sensor time intervals, and switch details are stored directly on your bridge for easy sharing with other devices on your WiFi network.
Enjoy spectacular choreographed audio/visual background animations and sequences! Bring your Hue Lights to a whole new level with multi-track, synchronized, and visually appealing light animations. The "Hue Lights" third-party app for iPhone, iPad, and iPod Touch gives you fast, accurate, and complete control of your Hue Personal Wireless Lighting System. Create personalized categories, scenes, and favorites. Access frequently used lighting scenes with just one tap. Set up your favorite colors with precise control over all possible light attributes. Apply favorites to lights, scenes, and groups for quick set-up and changes.
What's New in Hue Lights v3.8?
Experience amazing configuration options for your smart lights with Hue Lights v3.8! Create multiple time intervals for your Hue Smart button. Each time interval can control separate groups and scenes. Activate distinct lights using short-release and long-release actions. Tap once to change your lights to any color. Tap a second time to turn your lights off. The rules created on the Philips Hue bridge are optimized for storage and speed. Add a huge number of Hue Smart buttons to your Philips Hue bridge without running out of rule space.
Schedule individual lights. You can also schedule groups and scenes. When scheduling individual lights you can choose any favorite color, on/off action, fade time (instant to 90 minutes), and brightess level. If you saved scenes on your Philips Hue bridge from any source, you can use the Hue Lights app to schedule these scenes.
Control individual lights from your Apple Watch. You can now control scenes, groups and lights from the Apple Watch. Quickly tap a favorite color on your Apple Watch to change an individual light. This control option is faster than using a voice assistant.
New Features
Create arbitrary time intervals for the Hue Smart button
Schedule individual lights
Control individual lights from Apple Watch
Larger buttons on Apple Watch
Improved visual feedback for On/Off buttons
Lights can be added to bridge with serial numbers
Updates for iOS 14.4
Fixed issues when switching bridges
Added support for new device types
Bug fixes and performance improvements
Recent Features:
Launch Hue Lights from Apple Watch Complication
Control 200 scenes
Control 64 groups
Scenes have larger On/Off buttons
Animated feedback when controlling a scene
Group colors change instantly
Create recurring schedules for the All Lights group
Duplicate any sequence
Updated sequence defaults
Added support for Philips Hue Play
Fixed issue when deleting lights from effects
Fixed cache synchronization problem with group schedules
Enhanced schedule options for groups and scenes
Maximum brightness in Perfect Sunrise effect is configurable
Configurations for thunderstorm, fire and water are saved between restarts
Improved configuration table visualizations
Added support for latest Hue Go model
Added support for Hue Outdoor LightStrips
Added support for Hue Aurella panels
Added support for Trådfri light
Fixed issue when deleting lights
Fixed sequence display when using only one light
Scenes can use colorloop and alert effects
Scene colorloop effect works with Widget and Apple Watch
Improved brightness visualizations
Bug fixes and performance improvements
Bridge discovery enhancements; find all bridge models (V1 and V2)
New bridge communication software for firmware 1935074050
Faster switching between Philips Hue bridges
All off/on buttons control multiple bridges at the same time
Added support for Hue smart plugs
New images for Hue smart button
Added volume controls to thunderstorm, fire and water effects
Updated Hue bulb images for model LCT025
Schedules show timers and recurring timers
Improved Hue Tap configuration screen on iPad
Philips Hue outdoor motion sensor support
View and edit schedules from any source
AirPlay option added to all effects that use audio
Effects, sequences and animations keep running when using music apps
Fixed synchronization issues when editing scenes and groups
Added support for drifting bridge values
Created new URL scheme for sensor control: huelights://sensors
Shortened VoiceOver text
The Richer Colors and Scenes In-App purchase is recommended for Philips Hue Generation 3 bulbs. It includes 10 new scenes: Arctic Mist, Autumn, Big Sur, Coral Reef, Cornucopia, Glacier, Jordan Almonds, Lilac Garden, Pastel Valley, and Seaside. Tap Settings → Upgrade → Richer Colors and Scenes to purchase this In-App item. You can use this In-App purchase on all of your other iOS devices. Use the Restore Previous Purchases option on the new device to unlock all of your In-App purchases.
Identifying Philips Hue Generation 3 Bulbs
The very first Philips Hue bulbs released in October 2013 were A19 form factor bulbs. These bulbs are Generation 1. The latest version, Generation 3, uses slightly different internal LED components. These allow for richer blues and greens. The bulbs also dim much lower, so they work well when used as night lights together with a motion sensor. Look for Richer Colors on the outside of the retail box.
You can purchase various Generation 3 bulbs via these Amazon links. Note that the Philips Hue Lightstrip Plus and Hue Go produce the same colors as Generation 3 bulbs, so these are all great choices for the Richer Colors and Scenes In-App purchase:
Compatible Model Numbers
You can use the Hue Lights third-party app to see the exact model number of every bulb connected to your bridge. Sometimes it can be hard to quickly determine which generation of bulbs you are using. The following table shows the current bulb types and model numbers that support the Generation 3 colors:
| Product | Model |
| --- | --- |
| Hue Bulb A19 | LCT010 |
| Hue Bulb A19 | LCT014 |
| Hue Bulb A19 | LCT015 |
| Hue Bulb A19 | LCT016 |
| Hue BR30 Richer Colors | LCT011 |
| Hue Go | LLC020 |
| Hue LightStrip Plus | LST002 |
| Hue Color Candle | LCT012 |
Alexa Tips
You can create precise scenes with the Hue Lights app that let you configure every possible value of each light attribute (hue, saturation, color temperature, brightness, on/off status). To make your Amazon Echo device recognize a custom Hue Lights scene follow these steps:
Create a User Defined Scene
Within the scene detail screen tap Scene Effects
Tap Room and assign a room from the ROOMS section
Save this scene on the bridge by tapping Share on Bridge
Launch the Amazon Alexa app and tap the 3 horizontal bars at the upper left of the screen
Tap Smart Home → Scenes → Discover Scenes
Your new scenes should show up once the search completes
If your scene is named Mars, activate it by saying Alexa, turn on Mars
If there are no rooms listed in step 3, then you should create a group with a Room group type. Rooms are currently required for correct Alexa operation. Once you save a Hue Lights scene on the bridge it will also be visible in the native Philips app.
Since a single scene can turn some lights on and other lights off you can trigger dramatic changes with a few words. The scenes created by the Hue Lights app store some information on the bridge and other information directly on the Hue bulbs. This makes it possible to have all bulbs react at the same time. Give it a try! If you have any questions, you can always contact support within the app.
Contact
Please send suggestions, questions or feedback to the support contact at https://huelights.com. If you are stuck on a particular issue, please check our FAQ for help.
Follow @HueLights on Twitter and like our Facebook page for the latest news and updates.
---
Legal Notices © 2013-2021, LapApps, LLC. All rights reserved. | Privacy | Support | News | Download