Hue Lights
Advanced control for your Hue Personal Wireless Lighting System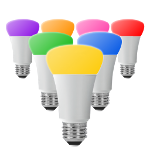 Spectacular choreographed audio/visual background animations! Bring your Hue Lights to a whole new level with multi-track, synchronized, and visually appealing light animations. The "Hue Lights" third-party app for iPhone, iPad, and iPod Touch gives you fast, accurate, and complete control of your Hue Personal Wireless Lighting System. Create personalized categories, scenes, and favorites. Access frequently used lighting scenes with just one tap. Set up your favorite colors with precise control over all possible light attributes. Apply favorites to lights, scenes, and groups for quick set-up and changes. Organize categories and scenes to match your unique configuration.

Hue Lights Watch

Apple Watch support is here! Experience the time of your life with Hue Lights. Activate scenes, adjust group brightness, and trigger alerts all from your Apple Watch. Experience the speed and simplicity of Hue Lights on your Apple Watch. The same fast widget code for quickly activating scenes and groups is now available to any Apple Watch owners running iOS 8+ on an iPhone 5 or later.

Why Try Hue Lights?
Do you have Hue Lights? Are you looking for great Philips Hue apps? You can try a great Philips Hue app for free by downloading Hue Lights from the App Store today! Do you need Philips LED bulbs, more LED lights, Hue LightStrips, Hue bulbs including BR30, A19, and GU10? Take a look at all of the Friends of Hue Philips products available at Hue Lights.
There are several third-party Philips Hue apps available. Search for Hue Lights on the App Store for some excellent LED lighting apps. It is best to try the free Philips Hue apps first to make sure they work in your environment. The Philips LED bulbs can be remotely controlled with one of the best Hue apps, Hue Lights, using your iPhone, iPad, or iPod Touch device. Philips LED bulbs consume just 8.5 watts for the A19 model and produce 600 lumens. The Philips BR30 model uses just 8.0 watts and produces 630 lumens. Controlling the Philips Hue LED bulbs is easy with Hue Lights and your iOS device. LED lights can save you a lot of money and improve your quality of life. Using an advanced light controller similar to Hue Lights is the best way to control Philips Hue LED lights.
When searching for a Hue app or deciding whether to purchase the Hue Starter Kit, read a Philips Hue review from a trusted third-party source and also read user comments posted for both the Hue hardware and Hue software. Definitely try the Hue Lights third-party app for controlling Philips Hue and all of the supported Friends of Hue products. Are you still thinking about buying Philips LED bulbs or the Philips Hue system? Check out some YouTube videos to see how colored LED lights would look in your house. A very good Hue app that is free to try is Hue Lights. Version 1.1 of Hue Lights introduced dynamic light animations, choreographed audio/visual scenes, flexible group sharing, and background light animations.
This core foundation was leveraged in Hue Lights v1.7 with the Weather Simulator In-App purchase. Your Hue Lights are ready to rumble with stupendous thunderstorms! Experience realistic storms with customized controls for lightning strikes, rain density, bird songs, wind speed, sleep timer, brightness and sky color! Rain sounds range from light sprinkles all the way to heavy downpours. Thunder and lightning are synchronized to keep you in the eye of the storm. Choose the frequency of lightning strikes and bird songs. Listen to birds in millions of different locations, near and far, as the app moves them through space using advanced soundscape algorithms. Your LED lights will come alive with one of the best Hue apps available, Hue Lights.
Download Hue Lights today and experience Philips Hue with a great Philips Hue app that has excellent support for starter kits all the way up to very large Hue deployments. Read a Philips Hue review, watch some demo videos, and then try a light controller that will optimize your Hue Lights investment. What is the best Hue app? We highly recommend Hue Lights by LapApps, LLC. Your Hue bulbs will be happy with this excellent light controller.
Hue Personal Wireless Lighting is a trademark owned by Koninklijke Philips Electronics N.V., see www.meethue.com for more information. Hue Lights and LapApps, LLC are in no way affiliated with the Philips organization.
---
Legal Notices © 2013-2020, LapApps, LLC. All rights reserved.