Hue Lights
Advanced control for your Hue Personal Wireless Lighting System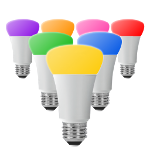 Do you want the world at your fingertips? "Hue Lights" lights the way! Share your scenes with all of your iOS devices. Create multiple "On" and "Off" schedules per scene. Each scrolling list now has one-tap "On" and "Off" controls. Tap on the leftmost light image to turn on a light, scene, or group. Tap on the rightmost power button to turn them off. Tap in the middle to make changes.
Enjoy spectacular choreographed audio/visual background animations! Bring your Hue Lights to a whole new level with multi-track, synchronized and visually appealing light animations. The "Hue Lights" third-party app for iPhone, iPad and iPod Touch gives you fast, accurate and complete control of your Hue Personal Wireless Lighting System. Create personalized categories, scenes and favorites. Access frequently used lighting scenes with just one tap. Set up your favorite colors with precise control over all possible light attributes. Apply favorites to lights, scenes and groups for quick set-up and changes.

Questions about Hue Lights? Check out our FAQ section. Questions about supported hardware?
License
The Fire feature includes licensed audio clips from The Recordist. Original recordings by Frank Bry, Creative Sound Design, LLC. The fire and flare sounds were sourced from the Ultimate Fire HD Pro sound effects library. Each clip was trimmed and transformed for use in the Hue Lights app.
When starting a fire the sound of the striking match was recorded by Mark Snycerski using a Sony HDR-PJ430V and cleaned up with audio filters.
---
Legal Notices © 2013-2020, LapApps, LLC. All rights reserved.